Kancho Peter Chong
CHAIRMAN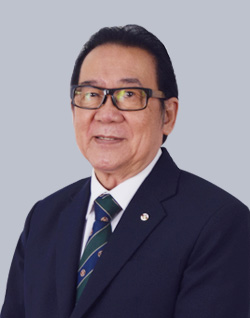 Chairman of the International Karate Alliance, KyokushinRyu
Kancho Peter Chong 9th Dan, is a Kyokushin Karate master.
Kancho was the former long term International Committee Chairman for Asia and the Middle East, International Karate Organization (IKO1) founded by Sosai Masutatsu Oyama (1923–1994). He resigned from that position in 2018.
Kancho Peter was born in Singapore in 1941. He began his training in martial arts under his father in 1955, at the age of 14.
Prior to studying Kyokushin Karate, he practiced Judo and other local arts in Singapore. In 1965, Kancho journeyed by boat to Japan, to train full time with Kyokushin Karate founder Mas Oyama at the Honbu dojo, Ikebukuro Tokyo. Many of the famous Kyokushin luminaries and senior Instructors were training at Honbu during that time.
During 1969, he established his first Dojo in Singapore.
Prior to retiring from the workforce, he was an Assistant Superintendent of Police in Singapore. Kancho Peter was also a regular Self Defense instructor in the Singapore Police Force throughout his Policing career.
Kancho Peter was responsible for tirelessly promoting Kyokushin Karate throughout Asia and the Middle East, and teaching hundreds of Instructors & students during the ensuing decades.
In 1988, Kancho received the Pingat Bakti Masyarakat (Public Service Medal) from Ong Teng Cheong, then Deputy Prime Minister of Singapore, for his services to martial arts.
Kancho Peter Chong is dedicated to promoting Kyokushin Karate in its proper form including its philosophies and principles to all, through the International Karate Alliance KyokushinRyu.